Case Study
Orthopedic Wellness Redefined – A Deep Dive into My Orthopedic Problem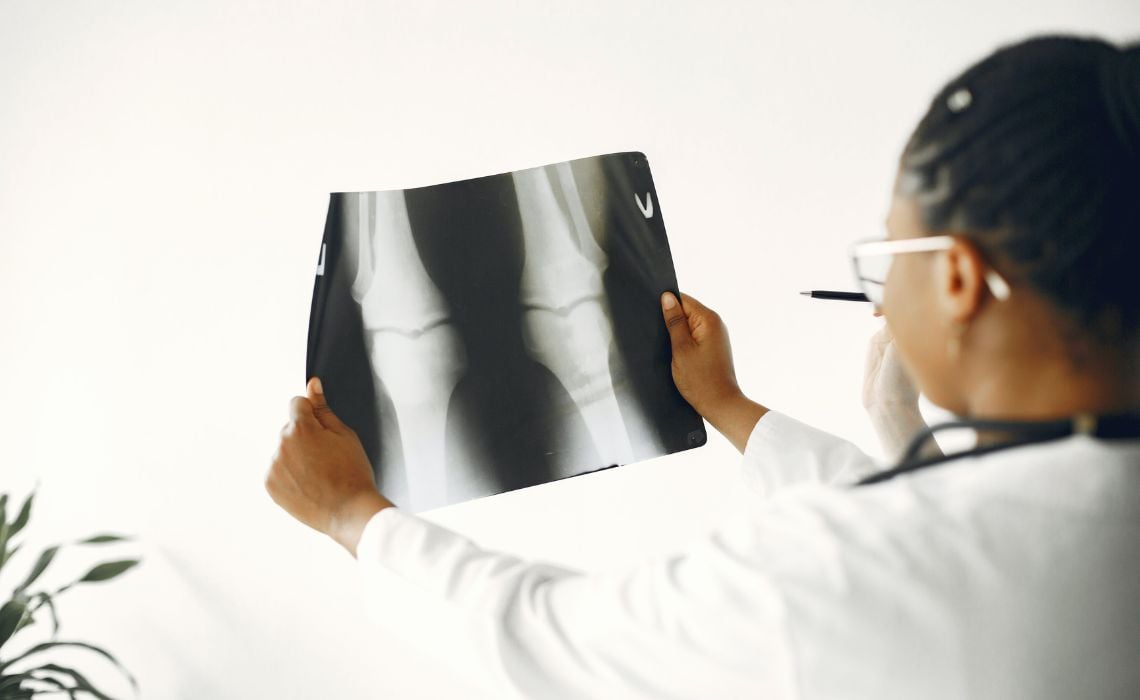 The Challenge
The objective of My Orthopedic Problem is to help both patients and providers in the orthopedic space. Patients need to understand their issues better, become informed about treatments, and easily access quality care. It can be difficult for patients to receive an accurate diagnosis of orthopedic issues. Many factors are involved, and finding the right provider near you who can treat you properly is challenging.
For providers, the objective was to increase business. Everyone in the industry wants to be busier, and the goal of My Orthopedic Problem was to be a lead generator to help providers see more patients. The two-fold nature of this objective encompasses and addresses the multiple facets of the orthopedic industry that make seeking and providing treatment challenging. The challenge was creating a mutually beneficial app for patients and providers to build a complete orthopedic wellness platform.
From the outset, ConcertIDC has been a tremendous development partner for Clinekt Health. They have demonstrated a deep understanding of our objectives and a keen ability to turn our ideas into functional code. Their background in the healthcare sector has been a great benefit for us, as they pick up very quickly when we present new development criteria to the team. Their technical proficiency and problem-solving skills have been evident in every phase of the project. I have no hesitation in recommending ConcertIDC to anyone seeking a skilled and reliable software developer.

Wood Bramlett
CEO, Clinekt Health
The My Orthopedic Problem website creates an accessible hub where individuals can receive a preliminary diagnosis, find industry-leading educational resources, learn exercises to address their pains/problems, and easily locate a provider. The solution is interactive, so users respond to a standard set of questions based on each muscle group and receive a diagnosis based on those answers. After receiving a preliminary diagnosis, users can navigate through the portal to find educational content based on their conditions and learn about symptoms/causes, diagnosis/treatment, the anatomy of the injury, and conservative versus invasive care options.
This solution helps bridge the gap between patients and their medical providers by empowering them to be active in their care. The app enables users to seek the help they need with access to an extensive network of providers. Rather than searching for answers on many websites or platforms, My Orthopedic Problem provides a place where patients can find every resource relevant to their problem and seek out a provider that is close to them and best suited to treat them.
These features enable patients to participate in their care while generating leads for providers to increase the business providers see. Providers can treat more patients and, through My Orthopedic Problem, can communicate with them, share documents, and utilize telehealth in the near future.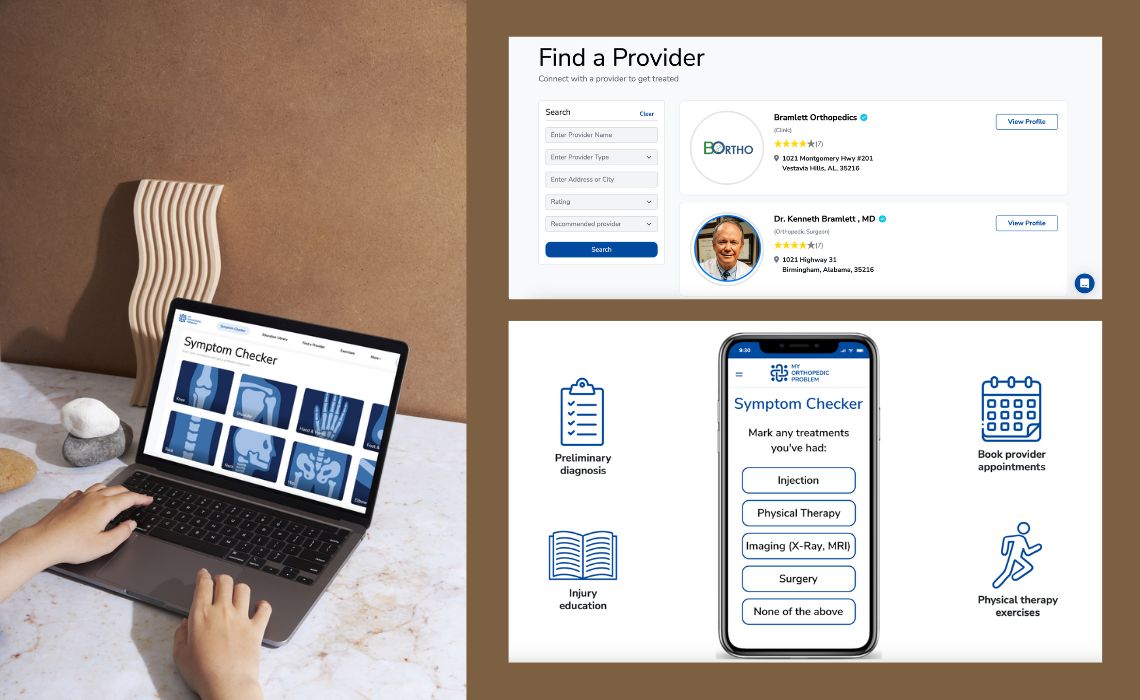 Technology Used:
Application type

Tech stack

Project tools

Type: Web

Platform: AWS

Frontend - ReactJS

Backend - NodeJS

Database - Mongo DB

Jira, GitHub, Logz.io
Product Description
MOP is a web portal designed to empower users and patients to evaluate, educate themselves about, and seek treatment for their orthopedic problems.
It includes many fey features and functionalities to make this a possibility, including:
Symptom Checker:

Users select a muscle group and respond to a set of queries. Based on user responses, MOP presents the top 3 possible orthopedic conditions. Users can choose one condition to access relevant educational content. Navigation between different condition contents is supported.
Provider Selection:

After educating themselves, users can select the condition they believe matches their situation. MOP provides a list of relevant healthcare providers. Users can view detailed profiles of these providers and choose the one they would like to book with.
You can utilize many filters when selecting your provider, such as type, zip code, rating, and recommendations. The provider profiles also detail academic qualifications, blogs, reviews, and contact details to give patients all relevant information to aid their decision-making.
Booking Appointments:

Users can book appointments with their chosen providers. Minimal user information is collected during the booking process. Appointment confirmations are sent to both the provider and associated email addresses.

Ask an Expert:

Users can seek clarifications and advice from healthcare providers. Providers can respond to user queries and offer guidance.
Educational Content:

MOP offers a rich repository of blogs by MOP Admin and healthcare providers. Information on various orthopedic conditions is available.

Claim your profile feature:

The claim your profile is one of the features where the providers listed can claim their profile and get them registered on the portal. They can also choose either a paid or basic user type. Claim profile subject to approval by the MOP Admin team.
For the most effective usability, there is a provider dashboard, patient dashboard, and admin portal to organize and disperse information. These separate portals empower each type of user to navigate MOP efficiently.
Provider Dashboard:

Healthcare providers can create and maintain their profiles. A one-to-one chat feature facilitates direct communication and is HIPAA compliant. Providers can publish and manage blogs. Additionally, referral management among providers is supported.

Patient Dashboard:

Patients are provided with personalized dashboards where their evaluation history is maintained for reference.

Admin Portal:

Administrators can create and manage admin staff. Patient records and provider approvals are managed through the admin portal.
MOP serves as a comprehensive platform that equips patients/users with the knowledge and tools to make informed healthcare decisions and enables healthcare providers to connect with and serve their patients effectively. Data security and privacy compliance are paramount within My Orthopedic Problem in handling sensitive healthcare information, ensuring a safe and reliable user experience.
My Orthopedic Problem is constantly improving and soon seeks to add a telehealth feature and a functional movement assessment that will help users manage their daily ortho wellness with daily prompts to help users address any problem areas and treatment recommendations depending on your assessment scores.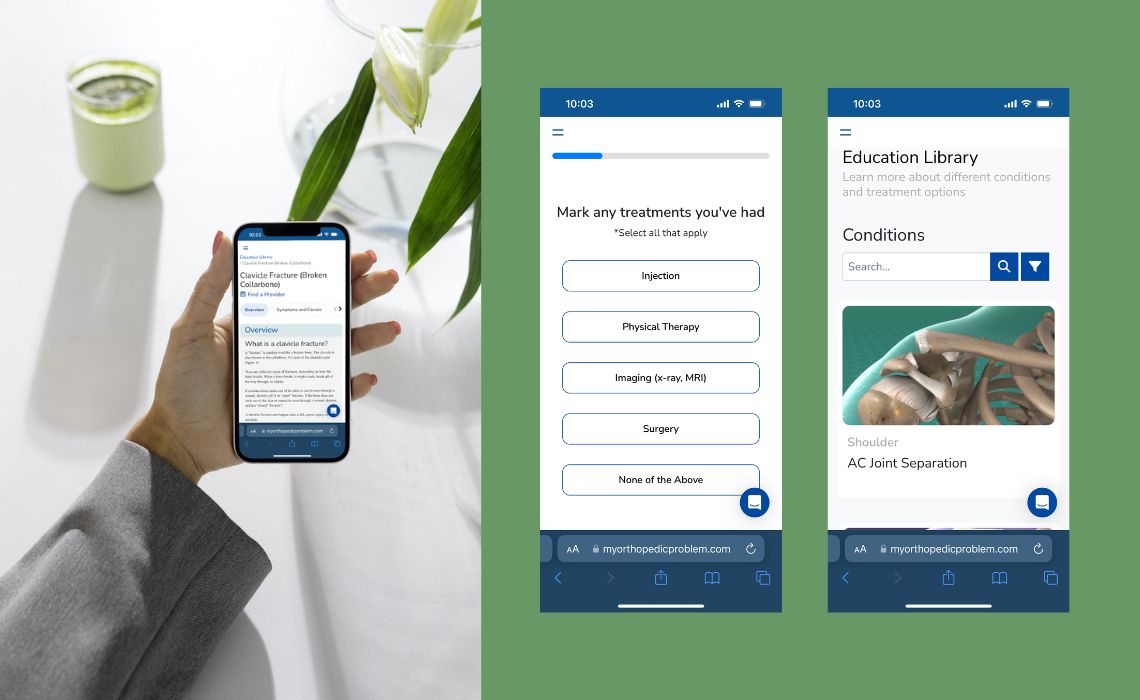 The Results
My Orthopedic Problem is creating many benefits within the healthcare industry. First and foremost, this application has prioritized easy usage. The app is straightforward to use in its structure and content. This means patients can easily identify their problem, find a provider, and access educational resources with merely a few clicks. The content is easy to read and provides expansive information to answer questions that may arise as you navigate through the app.
The application is also cost-effective; it gives users a preliminary understanding of their conditions and helps them find the right provider so they don't spend time visiting doctor after doctor seeking a diagnosis and treatment with the wrong providers.
There is also a comprehensive list of providers registered on the application, including practitioners in orthopedics, nurse practitioners, neurosurgery, primary care, personal trainers, physical therapists, wellness providers, athletic trainers, rehabs, hospitals, clinics, chiropractors, and pain management specialists. This array of provider categories gives flexibility and facility to ensure patients have suitable options.
My Orthopedic Problem facilitates communication between providers and patients through interactive and easy-to-use portals. The providers and the patient's portal feature their own dashboards with statistics. Through the providers portal, providers can update their profile info, enhance or cancel subscriptions, create posts/videos on various orthopedic features, chat, messages, and the details of appointments.
The patient portal displays appointment details with the providers, evaluation history as separate records, and physical therapy exercises for the patients. These comprehensive portals eliminate the complexity of many administrative errors in the healthcare industry.
My Orthopedic Problem seeks to drive more patients to providers by ensuring accurate information, comprehensive diagnostics, and accessible resources. This solution enables patients and providers to benefit one another and converge in an application designed to address problems faced by both groups.